holy moly
oh yeah, thats fuckin right. i'm on the interweb once again. we finally got it flowing into the new house, so here's an update of sorts for all my international fans and followers. so basically since i got back to the old country, i havent been doing shit...and i couldnt be happier. i'm not working at the volcano because i decided i dont want to work anymore. so i havent even attempted to get that job. but since my money is running out we began what has been dubbed the "great hawaiian job hunt." as you can see from the pictures below, the first few days were pretty hectic.
day one...the pool was nice and cool and the sun was quite warm on my white ass.
on day two we decided to go back and "job hunt" in the same area. by this time we were starting to get a little stressed out from all the hard hunting.
we were pretty stressed from those first two days and the weather was shitty on day three so we spent the entire day reading at starbucks. the only bad thing about that was that at some point i filled out an application there and have since had two interviews and will be finding out in the next day or two if i got the job. i would rather not work at all, but if i have to, working at starbucks wont be so bad i guess.
ok, all shenanigans aside, i have been riding my bike like some kind of bike riding machine or something and i'm about to start hitting the higher altitude trails so i can get into shape for the mauna loa trip this august. 36 miles one way, 4 day trip, over 13000 feet. anyone who wants to join me is welcome, the more the merrier.
a morning bike ride through some vicious lava fields...hill in the background that i'll be ascending in the days to come. its not high, but its a jungle. machete is required. it should be interesting.
this is my favorite morning ride. starts only 1.5 miles from my house, 11.4 miles later i'm at some beautiful cliffs where i decided to do some rock climbing and was able to recieve my first rock climbing accident. i'll let the pictures tell the story.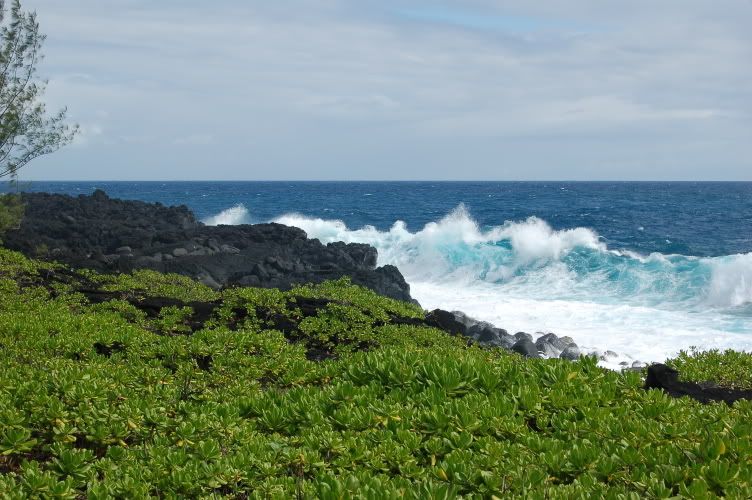 i also scraped up my right arm, right calf, and gouged my left ankle pretty bad. rest assured though, as soon as my back doesnt feel broken and i can use my left hand, i'll be back on the trails and ready for mauna loa in august. i'm actually really happy now, more happy than i've been in a long time. being back here with the people i love is the greatest. now i just need to convince some people to get their asses out here and i'll be flying fucking high. peace out for now, gotta go pick up people from school and what not and if you get a chance, call and tell ashley happy birthday, its today, the 26th. 813-298-6161 or 808-965-0965.